Forbidden Laughter
禁じられた笑い
2 – 12 May 2019
Thursday – Saturday 7.30pm & Sunday 5pm
Forbidden Laughter celebrates the powerful performance medium of Butoh, inviting audiences to experience surreal narratives within a bizarre and mysterious installation at the rustic Industrial School, Abbotsford Convent.

Conceived by leading Butoh artist Yumi Umiumare in collaboration with Takashi Takiguchi, Forbidden laughter is freshly unearthed! Award-winning performer, Maude Davey, the unstoppable force of Weave Movement Theatre, devious duo Willow J Conway & Zya Kane and the ButohOUT! Ensemble create strange and absurd stories woven between worlds that are mythically sacred and divinely carnal. The sensibilities of East and West collide in a contemporary setting designed by the internationally acclaimed Thai sculptor, Pimpisa Tinpalit.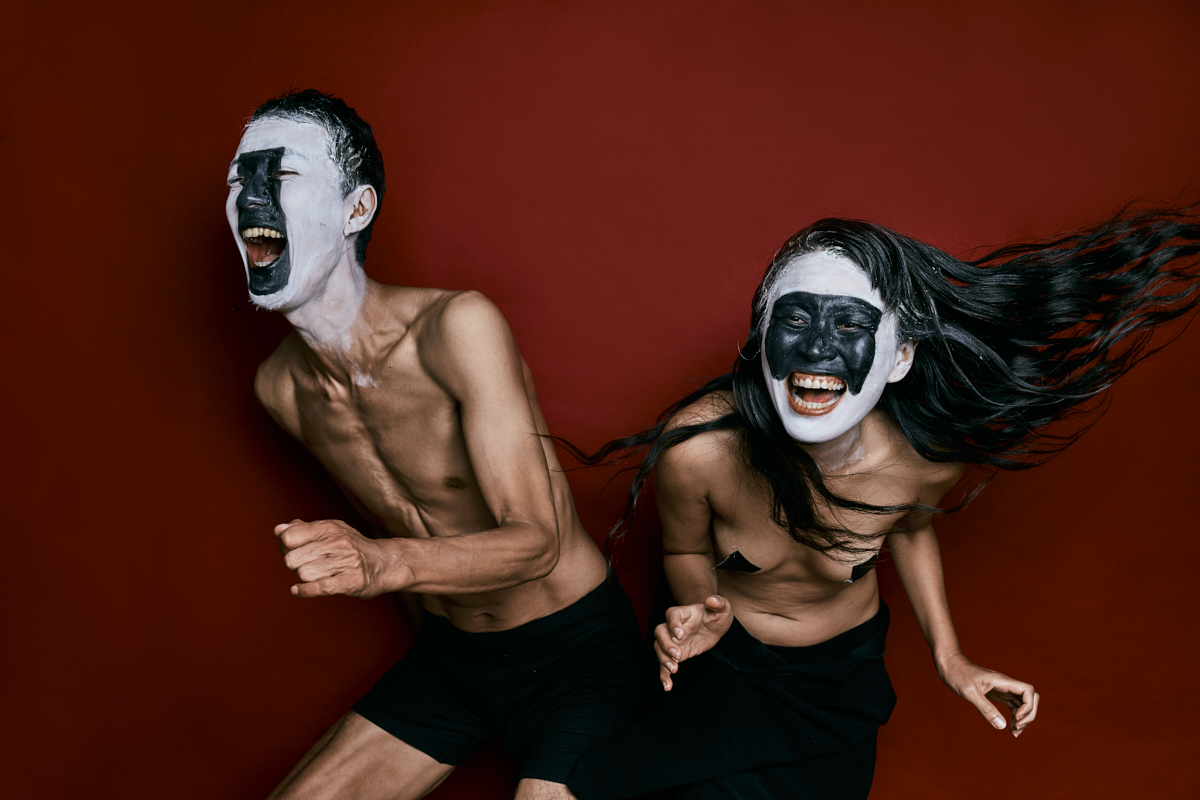 "The action of laughing is like
the breaking of the stiff mask of ego.
When we laugh, the authentic spirit
jumps out from deep inside from us"
- Keiichi Ueno

ButohOUT! is an annual festival celebrating creative communities and the profound performance art of Butoh. Originally called Dance of Darkness, Butoh was conceived in the Japan in the late 1950s during the social turmoil after the Second World War. It goes beyond the confines of specific culture, gender, status and religion, aspiring to universal expression
that touches the true nature of humanity. ButohOUT! 2019 will challenge the commonly held perception of Butoh as dark and grotesque, and will ask:

"Can the audience laugh at Butoh? Can we portray comedy in Butoh?"

— and the answer is a resounding YES!


The word for laughter in Japanese, warau笑う comes from the verb wareru 割れる- to break, crack or split. Multiple images, body movements and narratives are created through the focal point of 'laughing'. The surreal narratives are woven between the short works, through a mixture of the sacred and the carnal, the earthly and the divine, the contemporary and the mythic, Eastern and Western sensibilities in a contemporary Australian set up.
Performers
> WEAVE MOVEMENT THEATRE
> WILLOW J CONWAY
> ZYA KANE
> YUMI UMIUMARE
> MAUDE DAVEY
&
> BUTOHOUT Ensemble
Andrea Reichert, Alex Rouse,
David Blom, James Curtin, Justas Pipinis, Kiki Ando, Lukas Penney, Monika Benova, Mireille Stahle, Pauline Sherlock, Tomoko Yamasaki, Takashi Takiguchi and Zi Largiader
Accessibility and Companion Card Holder
Abbotsford Covent - Industrial School is a fully accessible venue, there is a gentle ramp to enter the building and the wheelchair accessible toilets are available. Should you require special seating arrangement or/and if you are a Companion Card holder, please contact at info@takashitakiguchi.com

Refund policy?
Tickets are non-refundable, except as required by the Live Performance Australia (LPA) Ticketing Code of Conduct. Tickets can be exchanged for a different date (where available); exchanges are charged at $5 per transaction. We also accept ticket name changes at no charge.